For Immediate Release
Monday, January 24, 2005
Contact:
Winston Smith
Communications Director
Forward Based Technology
(206) 789-9091
(206) 420-7928 (cell)
E-mail Winston Smith

Edward Ponderevo, the president and founder of Forward Based Technologies, announced today that GRIDS interface will be deployed immediately with the SWORDS robot soldier manufactured by Foster-Miller. This advanced military robot can be controlled by infantry troops in the battlefield, but can be switched to remote control via the GRIDS interface. The GRIDS interface (Game-based Remote Infantry Defense System) provides a seamless link between robotic weapons and the US Army's online recruiting tool, America's Army.
According to a recent news report, "(t)he Army is preparing to send 18 of these remote-controlled robotic warriors to fight in Iraq beginning in March or April."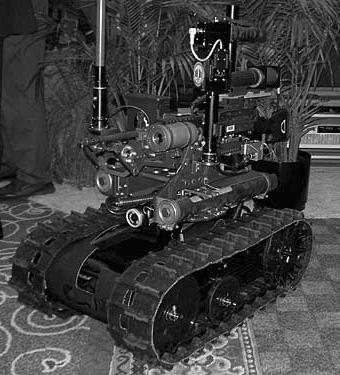 "With the GRIDS interface installed on the SWORDS robot, no longer will the progress of war be slowed or stopped by the physical limitations of the soldiers operating the controls," explained Ponderevo. "The Army has thousands of young people logging on to their America's Army web site daily, and these 'soldiers' have become extremely proficient at operating their weapons."
According to FBT's operations manager, Nicodemus Frapp, the GRIDS interface is delivered over the internet to the robots while they are in the battlefield, which means that updates can be supplied without loss of operational efficiency. Frapp expects 100% deployment of the interface to be complete within 5 minutes, which means that "by the time you read this news release every remote-controlled weapons system in the US arsenal will be actively interfaced and online. Our children, our most precious resource, will be protecting our country."
---
Forward Based Technology, Inc. is a small family-owned technology company located in the greater Seattle area. Founded in 2002 by Edward Ponderevo and his nephew George, FBT specializes in the creation and delivery of advanced human-machine interfaces and intelligent agents.