For Immediate Release
Wednesday, November 24, 2004
Contact:
Winston Smith
Communications Director
Forward Based Technology
(206) 789-9091
(206) 420-7928 (cell)
E-mail Winston Smith

Edward Ponderevo, the president and founder of Forward Based Technologies, announced today that the prototype of FBT's newest product has passed all the US government qualification tests required for implementation, and will begin production immediately.
The GRIDS interface (Game-based Remote Infantry Defense System) provides a seamless link between robotic weapons such as the Talon™, manufactured by Foster-Miller, and the US Army's online recruiting tool, America's Army.
"The advantage of this interface is obvious," explained Ponderevo. "The physical requirements of modern warfare are beyond most of today's young adults. Too many years of overeating, TV, and computer games have made most of them unfit for active duty. On the other hand, these young people have developed great powers of concentration and hand-eye coordination with joysticks. These are exactly the qualities needed for remote control of advanced military systems."
The GRIDS interface allows the Army's new class of robotic weapons to be operated by people logged on to the America's Army web site. Since its release July 4, 2000, the video game has garnered 3.3 million users around the world, who have spent 60 million hours hunched over their computer screens.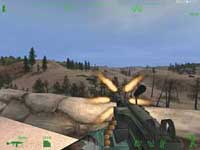 FBT's operations manager, Nicodemus Frapp, said that development of the GRIDS interface took over two years of intense effort. "Our chief engineer, George Ponderevo (nephew of the president), and his staff have worked nearly non-stop to bring this product to fruition."
According to Frapp, production of GRIDS will begin immediately, with "electronic distribution to follow by the start of the new year."
---
Forward Based Technology, Inc. is a small family-owned technology company located in the greater Seattle area. Founded in 2002 by Edward Ponderevo and his nephew George Ponderevo, FBT specializes in the creation and delivery of advanced human-machine interfaces and intelligent agents.